May Heydays at Evesham:

Venue
The halls — we think the photos speak for themselves!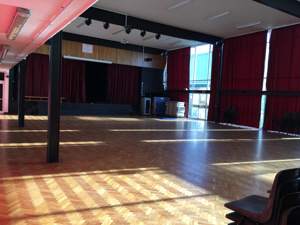 Where is it?
We have found a very co-operative and forward-looking school in Evesham. They are charging us less than the combined Eastbourne venues, offering us better facilities and helping us to keep future ticket prices affordable. The De Montfort School, Four Pools Road, Evesham, Worcestershire, WR11 1DQ is already used to renting out the whole school for weekend events. It is only half a mile from the town centre and offers us 6 halls, all on one site! The three main halls have wooden floors and are sizeable (similar to the main hall at St Catherine's); the other halls come in various shapes and sizes. The committee thinks that dancing will be a joy at this venue.
We will have the use of the adjacent extensive playing fields for camping — tents, camper vans and caravans. The fields are all fenced and gated: the gates will be locked at night. There is limited availability of hard standing for mobile homes. All campers will have access to the school WCs and showers 24/7. Dogs are allowed if kept on a lead and walked in designated area only. You can find more info on camping on our Where to stay page.
The school's caterers are looking to provide us with food at reasonable prices.
The De Montfort School is off the A46 Cheltenham Road, via Fairfield Road to Four Pools Road,
or off Coopers Lane, via Durcott Road to Four Pools Road. Download map in PDF format.
Get directions