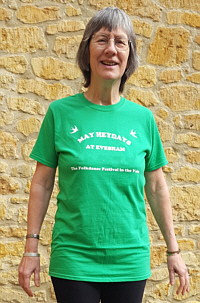 Yet again there will be no increase in ticket prices!
Early-Bird ticket: Oct 1st to Jan 31st: £97 (*concessions £48) per person.
After Jan 31st the prices will be:
Full Weekend ticket: from Feb 1st: £115 (*concessions £57) per person.
Day tickets: from April 1st: £55 (*concessions £28) (Saturday or Sunday) and £28 (*concessions £14) (Monday).
Evening only tickets: from April 1st: £16 (*concessions £8)
* Concessions are applicable only to under-18s and full-time students and are pitched at about 50% of full ticket prices. Sorry, no senior or other concessions.
Volunteers to steward for the festival will be welcome at a reduced ticket price of £48 (£57 after Feb 1st).
See the Stewards page for full information.
Camping/caravan space is available for the weekend Friday — Monday nights at £20 per person (*concessions £10): see Where to stay for more info.
Booking forms are here: Word document or PDF. If you have trouble downloading, printing or filling in bookings forms, a text version suitable for use in an email can be requested from You must enable JavaScript to see this email address.
We accept cheque, bank transfer or the WeGotTickets website (there is a small agency charge for the last). Full payment details for cheque or BACS can be found by clicking the appropriate button below. Transfers from abroad can attract quite high transfer fees but the festival requires these to be in addition to, not deducted from, the ticket fee. We therefore suggest the use of a transfer agency such as WISE (formerly TransferWise): wise.com
Weekend/day/evening sales via Agency, bank transfer, cheque will be accepted up to but not after 26th April.
If you are planning to buy a Day or Evening ticket on the day with cash, the exact change would be appreciated.
How to pay…
We will keep your personal information on file in case we want to contact you, but we will never pass it on to a third party.
Download the Booking Form, fill it in and mail it to
Monty Crook (May Heydays),
14 Thread Mill Lane,
Pymore,
BRIDPORT DT6 5QT
with your cheque made payable to May Heydays.
Download the Booking Form, fill it in and email it to
You must enable JavaScript to see this e-mail address.
(having transferred the money to our account).
Bank account details for MHD Business account with Lloyds: Name: May Heydays, Sort Code: 30-98-97, Account Number: 7489 7660.
Fill in and submit the form below to book on-line. This includes a booking fee of 10% or less:
Early-Bird: £7.80 (
*
concessions £4.80), Early-Bird + Camping: £8.20 (
*
concessions £5.30),
Weekend £8.10 (
*
concessions £5.20), Weekend+Camping: £9.50 (
*
concessions £6.10),
Day + Evening £5.00 (
*
concessions £2.70), Evening £1.60 (
*
concessions 80p), Monday £2.80 (
*
concessions £1.40).
denotes a required field.
REFUNDS will be considered on a case-by-case basis and could be subject to a £25 administration fee since the Festival may be unable to reduce some of its financial commitments. You may wish to consider cancellation insurance.

---