May Heydays at Evesham:

Tickets
We are planning to open 2023 ticket sales on October 1st 2022.
Please do not try to buy anything yet.
Any cheques we receive will be put in a drawer and probably lost.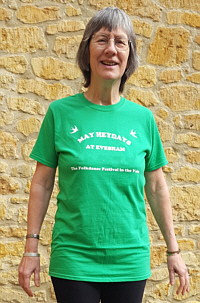 We are keeping ticket prices the same as for the 4-day festival originally planned for 2020:
Early-Bird ticket: Oct 1st to Jan 31st: £97 (concessions £48) per person.
Full Weekend ticket: from Feb 1st: £115 (concessions £57) per person.
Day Ticket: £48 (concessions £24).
Evening Ticket: £14 (concessions £7).
Volunteers to steward for the festival will be welcome at a reduced ticket price.
See the Stewards page for full information.
Camping/caravan space is available for the weekend Friday — Monday nights at £20 per person (concessions £10): see Where to stay for more info.
REFUNDS will be considered on a case-by-case basis and could be subject to a £25 administration fee since the Festival may be unable to reduce some of its financial commitments. You may wish to consider cancellation insurance.

---