May Heydays at Evesham is the relocated and renamed Eastbourne International Folkdance Festival (EIFF). After 44 years at Eastbourne, we needed to move because of the difficulties posed by having three venues at some distance from each other.
The Festival Venue
Our venue,
The De Montfort School
, Evesham, WR11 1DQ, offers all you need
on one site
:
An added bonus is that the school is less than a mile from Evesham town centre and there are two hotels within half a mile of the premises. The Evesham Premier Inn is 3 miles away on the by-pass, and there are other hotels, B&Bs and self-catering options within a few miles of the venue. We have suggested
Where to stay
within a reasonable distance from the festival venue.
Please note that only guide and assistance dogs are allowed within the school buildings.
The Festival Format
Closely following the long-established Eastbourne format, May Heydays offers an enjoyable bank holiday weekend mix of different folk dance traditions from many parts of the world.
Our extensive English programme of workshops and dances offers modern and historical dance (including Playford and other styles and eras) with a variety of live bands from England and/or the States. In 2019 Eastbourne started offering two English Balls for which dancers were invited (but not obliged) to wear historical costume or formal dress. For our first event post-Covid we had just one, but in 2023 we again had two.
Festival-goers also enjoy a great selection of American contras and squares, again with a variety of live bands from England and/or the States. These workshops and dances will be led by callers from the UK and/or the States.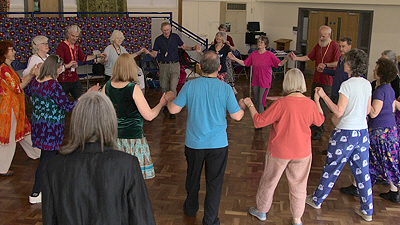 Our International guests will teach dances from different regions of the world, with a special emphasis on the Balkans. Owing to the range of tunes and styles involved in International dancing, workshops are mainly taught with recorded music; only for the evening dances will there be live musicians.
But May Heydays also offers an eclectic mix of other dance styles, traditional and modern. To give you a few examples, we may throw in French and Northern European couple dances, Jive, Lindy Hop, Cajun or Argentinean Tango. In 2022 we had Regency, Bollywood and Belly dancing.
A further string to the festival's bow is our commitment to providing opportunities for Caller Training. May Heydays will continue the Eastbourne tradition of offering club callers the chance to call for a festival audience. There will be a Callers' Workshop, and later a Callers' Training Session followed by a Callers' Showcase with live music. Please Contact Mecki if you are interested in taking up this opportunity. The festival will also include a "Callers' Round" where callers can meet up and exchange notes, moderated by an experienced caller.
As you can see, there are many photos and links to videos on this site. If you don't want to appear in these, please make yourself known to our photographer at the time.

---
Copyright © 2012-2023 May Heydays Folk Festival.
Privacy policy