Click here to see the performers from 2022.
Callers / Leaders
Brian Stanton
Brian started dancing and calling at barn dances and ceilidhs in his teens and came to folk dancing via ballroom dancing. He has called at various national venues including Halsway Manor and Eastbourne and Chippenham Festivals. He is also chairman of the excellent Mercian Folk Callers' Forum.
He enjoys Playford, modern English and American styles of dance and, as a caller, likes to share his enthusiasm with fellow dancers and to help them to get the most from a dance by encouraging them to think of the two big Ts — Timing and Technique.
Burt Hunter
Burt Hunter has been an avid folk dancer since joining Exeter University Folk Dance Society. He later started the Moorcock Ceilidh Band and has also called for other local bands including Whapweasel, a Hexham Morris spin-off. He has been dancing with the latter for over 30 years, principally doing Cotswold with a bit of Welsh Border and a bit of rapper and longsword. He is a member of Durham English Folk Dance Group and Colin Wallace's Hexham Folk Dance Group.
His interest in Kentucky Running Set began over 25 years ago at Whitby Festival where there are daily workshops. Frustrated at having to wait another 51 weeks for another delve into this fascinating genre he invited a group of friends including Dave Turner, who had been running some of the workshops at Whitby, to meet informally for supper and a session of running set. After an invitation to dance at Washington Old Hall for American Independence Day the group adopted a kit and a name: Rights and Lefts. He has run running set workshops at IVFDF, ICBINI and Chippenham.
Cis Hinkle
Cis Hinkle has delighted contra and square dancers since 1985 with her skilled teaching, welcoming manner, playful enthusiasm, and masterful selection of dances. She is in great demand at music and dance festivals all over the US, England, and Denmark.
When not on the road, Cis teaches t'ai chi classes in her native Atlanta, Georgia.
Website: sites.google.com/site/cishinkle
Colin Hume
Colin has been a caller for many years and has called at all the major dance festivals in England as well as dance weeks in the USA and the Netherlands and weekends in other countries. He teaches Playford-style, Traditional English, American Squares and Contras, and sometimes other dance forms such as Scottish, Quadrilles and Country Dance Minuet. He believes that if you dance better you will enjoy it more, and he runs workshops for callers and dancers in the hope of confirming this.
Website: colinhume.com
Denise Devonald
Denise Devonald and her husband Phil were much in evidence at May Heydays in 2022, stewarding in the Large Hall, but in 2023 she will show another side of herself. Denise has called at workshops for the Friends of Cecil Sharp House and evening dances for Hitchin Staplers and Welwyn Garden City Folk Dance Club. She was well received at the Eastbourne New Callers' Showcase in 2018 and followed this up with some shared events at Chippenham in 2019, but this will be her first solo festival appearance. She enjoys calling Playford-style dances and American Squares and Contras, and will put the dancers at their ease with her engaging personality.
Geoff Cubitt
Geoff is well known as a caller for American Squares and Contra and English Ceilidh. He has called at national dance festivals including Whitby, Chippenham, Eastbourne and Sidmouth, and is well respected by his peers. He has considerable experience as a dancer himself, particularly in Appalachian clogging.
His experience as a dancer stands him in good stead when calling, as his sympathy with those on the floor means that he is helpful to beginners as well as extending the expert dancers.
Website: www.geoffcubitt.com
Kathryn & David Wright
Kathryn and David — "The Wrights of Lichfield" in Gary Roodman's dance — have been dancing together for over 50 years. They enjoy both dancing and calling and have a wide repertoire from Playford to American Squares and Contras. They have composed several dances that have achieved widespread popularity both at home and abroad and enjoy sharing their love of dancing with others. They particularly like encouraging good dance technique and enjoy making so-called "difficult" dances accessible.
In 2023 they will again be running callers' workshops.
Liz Bartlett
Liz has been calling Playford, Georgian and Regency dances for 25 years, after learning Ballet and Scottish Country, both of which lend themselves well to historical dancing. A massive Jane Austen fan, Liz is the Dance Director of Jane Austen Dancers of Bath and always aims is to ensure that dancing "old" dances, for "modern" audiences and participants, is fun and inclusive. To grow the popularity of Regency dancing, she was first to identify the importance of enjoying dances which have appeared in film/TV productions of Jane Austen novels. Apart from creating bespoke choreographies using historical dances, Liz loves researching the people, places and events surrounding the title of a dance, as it unearths some amazing stories and scandals!
Louise Siddons
Louise Siddons is a well-known contra and English country dance caller on both sides of the Atlantic. After a 35-year sojourn in the States, she is once again based in the south of England, where among other things she is the co-founder of the Brighton Gender-Free Contra+ series. She also teaches a variety of couple dances including swing and waltz. In all of her teaching and calling, she aims for a fun, welcoming atmosphere that encourages dancers to enjoy familiar and new dances alike.
Maureen Knight
Maureen Knight and her husband Graham were two of the organisers of Eastbourne International Folk Festival before Mecki and her team took over and moved Eastbourne to Evesham, and she can't seem to keep away.
She'll be back in 2023, again encouraging less experienced musicians to join her for a non-threatening music session.
Nicola Scott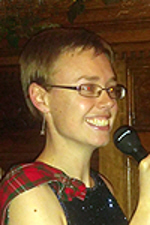 Nicola first started dancing 'The Gay Gordons' at the age of six at home in the kitchen, and has been hooked ever since! She continued dancing Scottish at university and now teaches weekly Scottish Country Dancing classes in Birmingham, taking particular delight in seeing new dancers become confident and take joy in their dancing.
Nicola has also made forays into dance devising, with her dances 'A Trip to Applecross' and 'City Lights' being published by the RSCDS, and a ceilidh dance entitled 'The Haka' becoming a firm favourite, especially at rugby clubs!
As well as Scottish, Nicola calls regularly for American contra and ceilidh dances in the West Midlands area, and enjoys introducing Scottish dances to other local folk dance clubs.
Website: www.nicolascott.dance Facebook: www.facebook.com/nicolascottceilidh
Musicians
Doug Eunson and Sarah Matthews
Doug and Sarah are experienced dancers as well as talented musicians; as a duo they play regularly for dancing and also form the core for other dance bands performing at festivals across the UK. For ceilidh, they pick great English traditional and self-penned melodies, enriched with harmony, and strong driving groove!
They are also enthusiasts of European dance music and bring some of their own written tunes into this traditional genre — you will not be able to sit this out!
Website: www.dougandsarahduo.wordpress.com
Facebook: facebook.com/pages/category/Artist/ Doug-Eunson-and-Sarah-Matthews-Duo-135954693183823
English Contra Dance Band
The English Contra Dance Band is a two-piece band playing music for contra dance. They are based in the UK and have been performing for the last ten years at most of the major contra dances. Linda Game plays a driving fiddle style over Gareth Kiddier's solid piano accompaniment. Although they are from different traditions — English traditional and Rock — they have adapted very well to the American high energy style of contra dance music. As one dancer said, "How can two people make so much noise?!".
Knotted Chord
One of the UK's top folk dance bands, Knotted Chord is a regular visitor to folk dance clubs and folk festivals around the country and is a popular choice for barn dances and ceilidhs at private parties including weddings, birthdays, anniversaries, fundraisers, and community events.
Band members live in Harrogate and Market Deeping and we aim to meet up somewhere in the middle.
Website: knottedchord.org.uk
Keeping Thyme
Julia Day, Shane Day and Tina Brown were part of the legendary "Wild Thyme", and have been playing as "Keeping Thyme" since 2000. They provide good, danceable music with energy or a gentle touch as required, in many styles, and will still be smiling at the end of the festival.
The Old Boys' Network
The Old Boy's Network is an accidental contra dance band formed out of adversity. Its three members played together in a last minute dance and enjoyed it so much they thought they would do it again. Paul Hutchinson, piano accordion, has been playing dance music for many years in this country and America and his book of 18th century dance tunes was published by Faber Music in 2019. His new trio Coracle will be touring Cathedrals until July 2023 as part of the Vaughan Williams 150th celebrations in a project called 'From Pub to Pulpit'. Matt Norman is a renowned mandolin and fiddle player as well as a music tutor and choir master. He has recently recorded a solo mandolin CD titled Mr Onion's Serenade. He has been playing as a solo musician for contra and with a range of duos. He is also a past winner of the Dartmoor Step Dance Competition. Gareth Kiddier (The Bismarcks, The Watch, ECDB and PolkaWorks) plays the piano, sits in the corner and mainly does what he's told.
Stradivarious
Website:
www.stradivarious.co.uk
International
Bob Robinson
Bob Robinson has been dancing Balkan and other international dance for over 30 years. He teaches regularly at Barlow International Folk Dance Group in Manchester, and has led workshops in Canada, USA, Poland, Australia and the UK. He has collected dances from dance teachers in Bulgaria, Macedonia, Albania, Romania and Armenia and from many of the top European and North American teachers. His evening will be mainly Balkan dances, both traditional and modern.
Colin & Sally Hersom
Colin and Sally Hersom are long-time members of the Oxford International Folk Dance Group. Over the past two years they have run acclaimed Zoom and outdoor sessions to keep the group active. On Saturday evening they will present a selection of dances that their group enjoys. All dances will be accessible to everyone and will be recapped or taught as necessary.
Cloudburst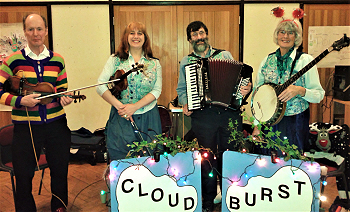 Cloudburst is led by Martin Butler on piano accordion, with Adrian Boddy and Wendy Harrup on fiddles and Jill Bransby on guitar. The band was originally formed to play for the Rainmakers international folk dance group in Letchworth, providing the inspiration for the name, but they are a versatile group of musicians who can play for Playford, American and ceilidhs just as well.
Dilyana Kurdova
Dilyana Kurdova is a native of Varna, Bulgaria. She studied Bulgarian folklore choreography under Prof. Petar Angelov, the artistic director and choreographer of Ensemble Varna in 1976. She is the international coordinator of the Plovdiv Folk Seminar at the Academy of Music, Dance and Fine Arts, Plovdiv since 2010 and the assistant to the dance program director. She is also actively involved in the projects of Shevitsa Foundation and Koncerti.BG. Currently Dilyana is finishing her PhD thesis at the South-West University in Blagoevgrad on the topic of how traditional dances have transformed throughout time, with supervisor Georgi Garov.
Dilyana is an anthroposophist and a member of the International Anthroposophical Society, has a Waldorf kindergarten teacher degree and applies this knowledge in her teaching of traditional folklore dances and rhythms of Bulgaria and Greece. She has been a guest dance teacher and lecturer at different recreational folklore groups all around Bulgaria, the Netherlands, Belgium, Germany, Switzerland, Denmark, Sweden and Norway as well as in Israel, India and Thailand.
Karin Bellaart
Karin Bellaart has been a teacher of ballet and international folklore since 1974, teaching amateurs and professionals in many ways. She has taught in England many times — International Folk Camp 1978, Great Alne Weekends, Eastbourne Festival 1986 and 1987, SIFD Summer School 1989 and 2015 — and has performed with Hupsakee and Paloina during festivals in Chippenham, Newcastle and Sidmouth.
Karin will lead an evening dance and a workshop on 'Ways of Teaching International Dancing'.

Steve Earwicker and Nikki Muckle
Steve and Nikki will be teaching you to Bourrée, to Schottische, to Waltz (French style) and perhaps even to Mazurka! They may also slip in the odd Breton dance. They ran the French Dance Workshop and Bal at Chippenham Folk Festival in 2018 and 2019, and have appeared at several local Festivals in South Hampshire. They were involved in the early days of the French Music and Dance Sessions at The Nottingham Playhouse — these later became the Ockbrook French Dances, still running every month. Steve also runs the EuroBal Wessex French and Breton dances at Ibsley in the New Forest along with Gill Redmond and Alasdair Paton, who, as
Confluence
, played for the 2022 May Heydays.
Facebook: facebook.com/groups/EuroBalWessex
Display Teams
Stratford Renaissance Dance
Stratford Renaissance Dance, founded in 1984, is a community dance group exploring court and country dances of the 16th century. Their Stratford-upon-Avon base in the heart of Shakespeare country is the perfect location for exploring dances of the Tudor period, and the group always dance in full costume as part of the annual celebrations of Shakespeare's Birthday.
The Sound Collective
Sound Engineers and Sound Systems will be provided for all live events by the Folk Dance Sound Collective (FDSC). This is an informal collective of folk dance musicians who are keen to give dancers the best kind of sound experience. They differ from the usual sound engineers at large events because they really understand the dynamics of a dance. You need to hear the caller clearly, but the band and their music should lead you in your dance.
---